RemoteMode Launches Dashboard to Improve Students' User Experience and Achieve Higher Completion Rates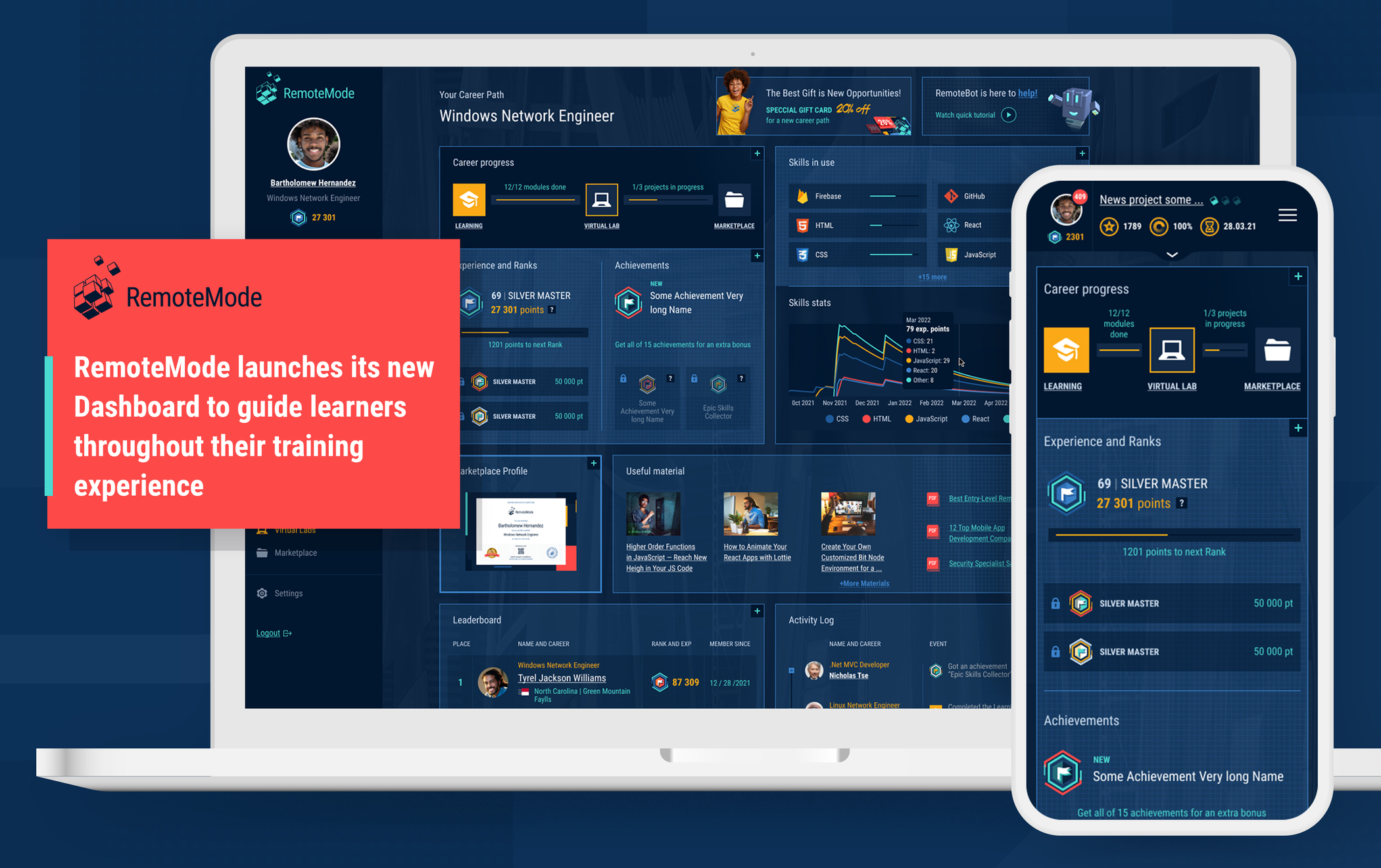 RemoteMode has announced the inaugural launch of Dashboard. This online training organization specializes in educating people for a career shift in various remote employment. This new tool for RemoteMode students walks them through every step of their training and job preparation. In addition, the Dashboard employs innovative gamification to motivate students to achieve outstanding results. RemoteMode stands apart from other training organizations because of its gamification approach to learning.
The Dashboard, which complements RemoteMode's step-by-step career training courses, keeps learners updated on their progress as they earn achievement badges and improve their skill ratings. The Dashboard also tells them everything they need to know about the next steps towards certification and getting ready for work. This exciting new addition to RemoteMode's educational solutions is another example of the company's dedication to providing excellent training and job preparation.
As students progress through their studies and job preparation plan, the Dashboard also gives them a list of eBooks, research papers, and other materials that they can download.
These materials complement the professionally created online video courses at the heart of the training and give helpful information for the Virtual Lab projects that students complete as part of their hands-on final learning experience.
RemoteMode is pleased to announce upgrades to Virtual Lab in conjunction with the debut of the Dashboard. Students will earn Skill Points as they use various technologies and tools to complete their practical, real-life projects in the latest version of Virtual Lab. Tasks are split down into numerous steps in the projects. Professional experts in the selected discipline examine and critique the students' results at the end of each task. Students gain Skill Points as they accomplish activities, which they can use to earn credits toward RemoteMode certification in their applied skill sets.
A progress bar on the latest edition of Virtual Lab shows a student's progress on assignments performed and projects submitted in the Lab. Three projects will be accessible in each career field, each one progressively more difficult. RemoteMode certification is awarded to students who complete all three projects in their selected area of competence.
The expanded Virtual Lab and the Dashboard are appealing features of RemoteMode's full-service program for training adults in work skills that allow graduates to pivot to new careers or advance their existing ones.
About RemoteMode:  Headquartered in Greater Boston, Massachusetts, Here at RemoteMode, we provide a simple gradual procedure for beginning a remote career and landing your very first job. Our comprehensive approach is developed by educators, business owners, and headhunters aimed at looking through the entire process of beginning a new career. Our process is set on the key attributes employers pay attention to and how best to serve their particular needs. We try to put learners in a collaborative learning environment where they are mentored by experts in their fields and acquire working experience through in-house internships through virtual labs. These help candidates ready for jobs by adding live projects to their portfolios, job interview skills, and professional resumes.
Take the first step to your new remote career!